They were in no hurry, the gentlemen of Harm's Way. Between the previous record Posthuman and this Common Suffering is a gap of no less than five years. And don't blame them. While the fans eagerly awaited a new album, white smoke did not come out of the chimney until mid-July this year. Suddenly out of nowhere, as if the band had no impatient fans or something. That's how they roll, these gentlemen of Harm's Way. Stubborn, quirky but above all ironclad. The new work appears through the same label, with the same line-up ánd contains metallic hardcore as we are used to. What could go wrong?
Nothing, but nothing at all. Admittedly, the first round of listening I was not yet immediately excited, because although the promo sheet promises us musical stylistic shifts, it is mostly handling in an aggressive way without caring too much about the details, as in the most positive sense of the word. Only after about roughly three listens, the block of concrete fall. Indeed, Common Suffering listens away somewhat monotonously on first listen and the characteristic breakdowns are even better woven into the songs without necessarily emphasizing them. That fact admittedly benefits the primal, continuously menacing atmosphere of the pot of industrial (metallic) hardcore. Metallic because the rock-hard and tight guitar parts in Silent Wolf, Denial, Hollow Cry and the bone-breakers Heaven's Call and Cyanide, among others, feel very metal or even Meshuggian. The breakdowns contain a syrupy sludge edge, the industrial influences arises from the mechanical and static nature of the sound production and guitar parts combined with the necessary electronic additions and all while Pligge's bellowing vocals continue to plow along like an unstoppable machine. With that, the promise of Become A Machine (Posthuman, 2018) has now been more than fulfilled. What a container of colossal violence.
In addition, there is still plenty of eye for the well-known
Harm's Way
groove, on which frontman Pligge can play the 'running man' again live. Take the rousing, uptempo rhythms in
Devour
or
Sadist Guilt
. You're quite a boss if you can stay still to these sounds. The persuasiveness and overwhelming execution make you give in, sooner or later. In that respect, the quieter and experimental outing during
Undertow
is a nice touch. The mysterious vocals of Kristina Esfandiari (
King Woman
) bring a fine,
Code Orange
-likish depth that fits perfectly into the ambience of
Common Suffering
. That line is continued in closing track
Wanderer
, which churns just on a bit too long. Still a very coherent record, even louder than a bag full of horse dicks: I'm telling you! Sometimes a change of course is unnecessary and authenticity is more important.
Harm's Way
has been providing proof for years, and it's no different with the massive
Common Suffering
. Apparently a band needs five albums and a five-year break to come up with the most destructive record in their discography. We will be patient again in the future. Homage!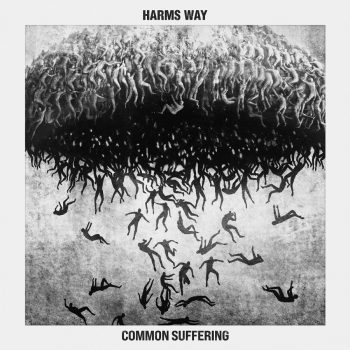 Score:
86/100
Label:
Metal Blade Records, 2023
Tracklisting:
Silent Wolf
Denial
Hollow Cry
Devour
Undertow
Heaven's Call
Cyanide
Terrorizer
Sadist Guilt
Wanderer
Line-up:
James Pligge – Vocals
Nick Gauthier – Guitar
Bo Lueders – Guitar
Casey Soyk – Bass guitar
Christopher Mills – Drums
Links: