Twice as bold, twice as much corpse paint, twice as deadly. That's our category Twice As Heavy. A new black metal album that simply demands to be viewed from more than one side. In addition, the editors would fight each other to determine who ultimately gets the golden ticket. This time we are dealing with Memento Mori by Marduk. Yves (favorite genre: black) and Joost (favorite genre: black, funeral doom) are the lucky ones this time.
Marduk. It is not merely a deity in Babylonian mythology, but also in the metal world. Like most bands, these Swedes took a little longer to present a new record to the outside world, but now the time has come. Memento Mori is on the shelves and expectations are high. After all, the gentlemen have been able to land in the top ten of our annual hit parade since Wormwood (2009).
Fifteen albums thus far. Only a few bands get to such a milestone. Do you hear Marduk's age in their sound? Are they veterans who continue to set the bar high or were they better in the past?
Joost: I think it was around 1996 when I first became acquainted with Marduk's debut album Dark Endless. To me, songs like The Funeral Seemed To Be Endless and The Sun Turns Black As Night are representative of the old Marduk. The same goes for Opus Nocturne, on which the band created three songs that I love very much: From Subterranean Throne Profound, Materialized In Stone and The Sun Has Failed. After this period I could especially enjoy Panzer Division Marduk and World Funeral, after which vocalist Legion made way for Mortuus on the following Plague Angel. An extremely intense album that served as a prelude to the "new" Marduk. Partly a break in style compared to the older work, although the uncompromising character has always remained a fixed value. The strong albums Rom 5:12, Wormwood, Serpent Sermon and Frontschwein are no exception to this. Viktoria has turned out to be a different beast, on which the band takes its inspiration from war themes, especially in the lyrical field. And despite the fact that it features a great song like Equestrian Bloodlust, I was eagerly awaiting its successor Memento Mori. Marduk never disappoints and surprises with every album without making any concessions.
Yves: The old Marduk is still spinning often here, that's just nostalgia. Wolves, Burn My Coffin, The Black Tormentor Of Satan… For me, these are the songs that put Marduk on the map. In my opinion the band went down a bit in the early 2000s, but Wormwood hit like a rocket. Since then it has been a hit for me, but Viktoria hit me a little less than the vicious Serpent Sermon and Frontschwein. Nevertheless, this band is and remains a leader on an international level. Most bands in the scene today can't even compare to the speed, the filth, the ruthlessness.
Why should metalheads listen to Memento Mori?
Joost: Well actually quite simple because Marduk does exactly what it is good at, namely playing mercilessly hard and pounding black metal. It is not surprising that there is a leading role for Mr Mortuus. What is surprising and also very welcome to me is the fact that Marduk thematically returns to the past: "death" instead of an overload of warlike scenes. Not that the war theme is completely absent, but still. Moreover, the winding riffs during Blood Of The Funeral combined with Mortuus' maniacal vocals are really a highlight. And then I haven't even mentioned the lightning fast drumming of experienced drummer Simon Schilling, who has been recruited by Marduk. The spoken words at the beginning of Shovel Beats Scepter sound monstrous, conjuring and as dominant as it can be. The way in which Marduk manages to crank up this slower cadence very precisely reminds me more than once of the first albums. Every now and then it seems as if Marduk let some Funeral Mist influences seep through, that other band of Mortuus, which makes the whole thing feel a bit more profound and sacred. In short, Memento Mori is a feast of recognition, on which the band has taken that extra step to impress even more.
Yves: The train pounds on mercilessly; that is a constant with Marduk. Mortuus' aggressive guttural sounds have become an important characteristic of this band. I also have the feeling that it all flows better on Memento Mori. It is pure genius to introduce a track like Shovel Beats Scepter about halfway through the album to hold off the pounding for a moment and have a fat, heavy song with a lot of immersion take over. Don't expect much breathing space here, maybe with one exception, As We Are.
Do you think Marduk is doing something new on this record? Is the band sounding fresh on this album that revolves around death?
Joost: The band continues to unleash its music on humanity as dirty as possible. Death is of course far from fresh, but I especially appreciate the great riffing that continues to display plenty of variety. This is the foremost element that adds more than enough variation for me. A short break during Coffin Carol and the thrashy Marching Bones are more experimental moments. As far as experiment is concerned, the last song As We Are is also worth mentioning. A ritual closing that I have not heard before on the other albums.
Yves: Marduk always has some songs on which they experiment a bit. That is all relatively natural for a band with its own sound and style like this one. On this record, for me, those are Shovel Beats Sceptre, Marching Bones and As We Are. The spoken sample on Shovel Beats Scepter was the first thing that stuck after a few listens and made the track get the necessary attention. I also really appreciate the old school black/thrash style of Marching Bones. My attention slackens a bit with As We Are, which sounds like a sluggish Satyricon track. I consider the song more as an outro.
The band released Blood Of The Funeral and Shovel Beats Scepter on YouTube. Do you think they represent the album well?
Joost: Yes, both strong varied songs that are typical for Marduk, although I would like to add that it wouldn't have mattered much which songs were released first. I think a song like Heart Of The Funeral or Year Of The Maggot could have been released first as well.
Yves: Decent choices, but in terms of choices they couldn't do much wrong with this album. Blood Of The Funeral sounds like Marduk pur sang, it's that dirty opening riff that keeps recurring throughout the song and gives it an extra dimension. Just like the menacing atmospheric waves that make their way down the middle of the track. Definitely one of the songs on which these gentlemen give it their best. As already indicated, Shovel Beats Scepter is one of the better tracks on the album and shows a different side of Marduk's sound. And it does not happen very often that two tracks, that follow each other on the full-length, are released as teasers beforehand.
 What is the best song on the record?
Joost: Not an easy choice, as after a few listens I came to the conclusion that there are no less than five exceptionally strong songs on this album: Heart Of The Funeral, Blood Of The Funeral, Shovel Beats Sceptre, Coffin Carol and Red Tree Of Blood. Coffin Carol knows how to convince you with the dynamic drum beat, the guitar work and the audible bass, on which Mortuus opens up his tormented soul. But if I have to make a choice in the end, I'll choose Red Tree Of Blood, purely because of the almost four minutes of unparalleled fury. The song kicks off so chaotically and strong right away, after which a seething Mortuus shows up.
Yves: I've already praised other tracks a lot and it's still hard to choose. Actually, there is not really a bad song on this record and I agree with the band's choices with respect to the released videos. However, a track that I gobble up like sweet pie is Coffin Carol. The riffs feel nostalgic, the singing style sounds the rawest and that attack around the third minute is one that makes the hair on my arms stand on end. Simply one the best riffs on the whole album. That's my personal highlight.
Bloodhammer (Simon Schilling) is playing ​​the drums. A tough audition to play with Marduk. Is the man doing well?
Joost: Simon Schilling has of course already earned his spurs in the metal scene. His relentless speed, variety and extreme fills clearly fit Marduk's style like a blood-soaked coat. I think this partnership is one to cherish, both for Simon and Marduk.
Yves: Undoubtedly a tough audition, but this man is not the least. A nice resume including Belphegor at the time of Conjuring The Dead and Totenritual. Then you know you can expect a merciless pounding. You really feel the difference with predecessor Viktoria, who also cut through quite firmly and on which Fredrik Widigs still pounded the drums. The same man as on Frontschwein, which was also quite a beast of a record. Now it does get a little harder. An added value for Marduk's style.
Do you think Marduk renewed itself on this album? What assets does this album have?
Joost: Fortunately not too much renewal, because Marduk doesn't need that at all, although the closing As We Are is an atypical song that will not appeal to everyone. It is noticeably slower with a rather ritualistic cadence and disposition. To me Marduk must above all continue to invoke his own demons and unleash them on the listeners and the band has once again amply succeeded in doing that with this album.
Yves: Other bands get older and slower, but Marduk does exactly the opposite. It has been since Serpent Sermon that these Swedes spewed so much hatred. In addition there is the variety that Marduk always brings. This also happens on other albums, of course, but it fits nicely within this concept album around death.
Final conclusion:
Joost: With Memento Mori, Marduk has unleashed a terrifyingly brutal album on the world. And I actually didn't expect anything else from the band. Despite the fact that I have seen the Swedes live countless times, I am already looking forward to hearing the new songs played live. And that alone is quite special already. As said before, the songs are not overly experimental, but still manage to keep you on your toes. Marduk returns to death and this is perhaps one of the greatest highlights of 2023, which has already been pretty awesome thus far.
Yves: Without a doubt one of the releases of the year. Marduk makes sure that they don't get boring, these Swedes do make sure of that time and time again. It took a little longer, but Memento Mori does not disappoint. Top ten of the year for the fifth time?
Score Joost: 93
Score Yves: 90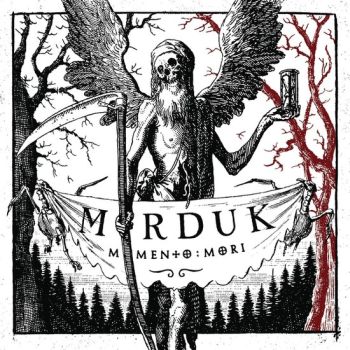 Score:
92/100
Label:
Century Media, 2023
Tracklisting:
Memento Mori
Heart Of The Funeral
Blood Of The Funeral
Shovel Beats Sceptre
Charlatan
Coffin Carol
Marching Bones
Year Of The Maggot
Red Tree Of Blood
As We Are
Line-up:
Morgan – Gitaar
Mortuus – Zang
Simon – Drums
Links: