Twice as gray, twice as grim, twice as dark. That's our category Twice As Heavy. A sinister, melancholic yet compelling new record that simply asks to be viewed from more than one angle. In addition, the editors would fight each other to determine who ultimately gets the (black-rimmed) golden lot. This time we're dealing with Et Hav Av Avstand by Taake from Norway. Cor (favorite genre: heavy, black, dark and angry) and Joris (favorite genre: black metal in all its aspects) are the lucky ones this time.
Hoest, the man behind Taake, needs no introduction, does he? If he does, then you have never been to planet black metal, or you are simply new to the scene. Et Hav Av Avstand, which translates as "An Ocean As A Distance", is Taake's eighth studio album, has four songs but still clocks in over 42 minutes. Can this album beat cult albums like Hordalands Doedskvad or Taake? Last album Kong Vinter (2017) was definitely decent, but nothing beats the records mentioned above, or are we mistaken? A song like Myr (yes, the one with banjo) on Noregs Vaapen from 2011 might come closest to the cult songs on these records.
Why should one listen to Et Hav av Avstand?
Joris: Hoest is and remains Hoest and Taake therefore remains Taake. In my opinion one of the most prominent Norwegian black metal bands of recent years. Hoest is someone who always creates his black metal in his own way and brings it to life both on record and live. This eighth album should therefore not be missing in the collection of any black metal fan. Production is not always clean and tidy, but this is something we do not complain about any more. You just have to let yourself guide by the multitude of guitar parts, the different drum dynamics and of course those characteristic vocals with those added oohs and uhs.
Cor: My first acquaintance with this artist was a good twenty years ago with the debut album, Nattesid Ser Porten Vid. I have loved listening to Taake's music ever since. His uniqueness within the quite traditional black metal put forward here is the greatest strength of the Norwegian. And this is again the case on the new album! The riffs, the production, the special compositions, the (sometimes) simplicity: it has it all!
What influences do you hear on the album?
Joris: It goes without saying that, taking into account his stubbornness, you would better wonder which elements Hoest has kept and which have disappeared. After all, he can look back on a richly filled discography and, in my opinion, has always remained averse to implementing more mainstream elements in his music. And here he does not either. Et Hav av Avstand is a work based on the same, known recipe.
Cor: Well, influences… none? If I have to mention something, then I am more inclined to say that the album simply maintains the well-known styles (or influences). The typical sound of the '90's is present here, to put it mildly, ha!
What do you think of the album cover?
Joris: It's hard to deliver an album cover for a new Taake album without fronting Hoest himself. Hoest has been central on every release and therefore also on this new cover. I think it's a very strong representation of the music on this album. Cold, chilly, rough, raw. There only exist shades between black and white if you look at it that way.
Cor: Ha, good question! Entirely in line with expectations, shall we say. Wonderfully simple, again. And it will probably save a lot of money too!
What's the best song on the record?
Joris: Gee, that's a tough question. In this context, without dishonoring the longer songs, I would choose Gid spokek Vi. Those typical guitar riffs over that blast beat in the first bars followed by a rousing double bass part give the song something chaotic. Something that the music and in particular the structure of the riffs have always had in Taake's music. Clearly, Hoest has learned the art of refinement for this type of riffs throughout the years. Et Uhyre av en Kniv  is a great song as well.
Cor: I am not going with my colleague; I choose Denne forblaste Ruin av en Bro. The song grasps my attention from start to finish. The melancholy and atmosphere are incredibly strong and those typical Taake riffs are present on this track as well (fans of the band will understand me).
What are the album's most poignant moments?
Joris: Each song has the time to tell its own story thanks to their longer duration. A story that sometimes seems a bit easier to get lost in. Take the middle-section in the second number Utarmede Gruver: narrative guitar parts do their own thing for a while until 7:40 minutes into the song, when the shrill vocals, supported by sliding bass notes, pick things up and make for a slight deviation in a different direction. Or the beginning of the shortest song on the album, Gid spokek Vi. At first the simple blast part doesn't seem to want to budge for another angular Taake riff. The slightly more melodic blast part at the beginning of the closing song Et Uhyre av en Kniv is strong as well.
Cor: Around 03:20 in album opener Denne, Ruin av and Bro forblowed, the tempo changes at six minutes in Utarmede Gruver, the wonderfully dissonant Gid spokek Vi and the epic, almost invigorating riff work combined with the consistency of the drums with Et Uhyre av and Kniv.
But… where did that banjo go?
Joris: You are probably referring to the aforementioned Myr from the Noregs Vaapen album. That's the song with the banjo that comes to mind first. On this record, Hoest has chosen again for guitar, bass and drums. I don't hear any exotic instrument on this record. A well-mixed obscure sample here and there and that's it.
Cor: Ha, good one. There was indeed a banjo on Myr, for a solo. That was quite a special moment (as this had never been done before, at least not in the way Hoest did). Opinions are rather divided on whether this really belongs to this genre.
Can this still be categorized as 'True Norwegian black metal', and why?
Joris: Absolutely! Just like I wrote before. Taake is and remains Taake, Hoest still is Hoest. Either you like it or you don't and the good man does not give a fuck what you think of it.
Cor: I share the Joris's opinion. Started in 1993 and it's still unmistakably the same sound. At the time a little more in the background perhaps. Somewhat overshadowed by other bands that were more in the spotlights during the past century, but in 2023 you can definitely call this band of the true 'originals'.
Final conclusion: is Taake still one of the leading bands in the genre?
Joris: Certainly, and this is the case exactly because he keeps on doing what he wants and keeps on doing what he is good at. That probably won't change.
Cor: Yes, I think so. Not wanting to go along with the (current) evolution of metal music and sticking to the well-known recipe may sound a bit outdated, but Hoest has a mission and this is mainly doing what he is good at: playing black metal. And it still doesn't bore (me)!
Score Joris: 85/100
Score Cor: 82/100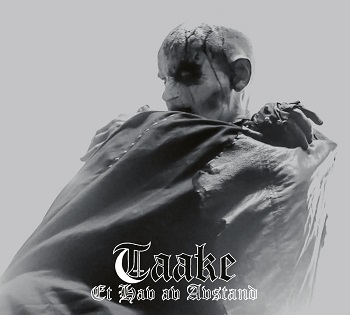 Score:
84/100
Label:
Dark Essence Records, 2023
Tracklisting:
Denne forblaaste Ruin av en Bro
Utarmede Gruver
Gid sprakk Vi
Et Uhyre av en Kniv
Line-up:
Hoest – Alle instrumenten, zang
Links: