What happens to the old leather armchair when grandma passes away? What happens to that armchair if it turns out to be located somewhere in an old cabin in the northeastern part of Finland? The two gentlemen – for me and many others probably unknown – from Noitila decided to record their album titled Langennut in a very minimalist way right there. They turned grandma's old armchair into a bass drum, recorded the acoustic guitar parts right in the forest, with no fuss at all. This means: only three basic microphones, recording without a metronome but by feel, and there you go.
Isn't it delightful when you read all of that… When you listen to this album for the first time, it simply sounds absolutely fantastic, doesn't it, or am I being too exuberant? Am I really? Of course not, this is pure black metal, and if you even learn that the lyrics came to life through psychography, I am completely sold. Back to the pure, unadulterated, unfiltered days of old. Back to old records by Ildjarn, Ulver, Isengard, Bathory, Satyricon, Tulus and Beherit.
Step into the darkness with these two gentlemen, the darkness created by the dense forest surrounding their spartan cabin. Join them on a journey through the damp and slippery hinterland. Meet creatures and beings living in this vastness, seeking refuge in the impenetrable. The music they provide is basic and rudimentary but typical Finnish black metal, absolutely delightful.
The first single, Kylvemme Sateesa Enkelten Veren, shows that grandma's armchair did its job. You feel the purity in every guitar strum, every snare drum hit, every kick. In the icy parts, you feel the bitter cold that must have been noticeable in the hut at certain moments of night. The Finnish language itself lowers the temperature even further. A chilling scream opens the second track on the album, Kadotuksen Liekki. This track exemplifies the aggression hidden within the two band members as well. Just hear those rather atypical drum dynamics.
Crunching snow under your boots, followed by choir-like singing: that's what you hear on Noitilaan. A track that is put together quite ingeniously and has several moments where classical black metal is replaced by a black'n'roll feeling. And then Langennut comes along and blows everything to bits and pieces quite sharply. Ikuisuuten Tuomittu displays malevolent organ tones, probably an instrument that also happened to be found somewhere in a corner of that particular cabin, right next to grandma's old armchair.
Delightful, this pure Finnish black metal frenzy. The two gentlemen from Noitila really impress with Langennut. Don't hesitate, just buy it.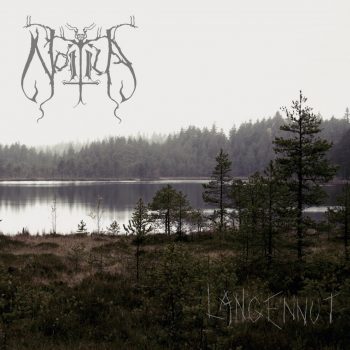 Score:
85/100
Label:
Nordvis Produktion, 2023
Tracklisting:
Kylvemme Sateesa Enkelten Veren
Kadotuksen Liekki
Noitilaan
Langennut
Ikuisuuten Tuomittu
Ruumis
Tähtien Takaa
Line-up:
Links: