There are only a handful of bands that have developed a very distinctive sound over the years. There are only a handful of bands that can keep this up for roughly thirty years. The Irish pagan-black metallers of Primordial are such a band. I hope the title of their tenth album, How It Ends, released by Metalblade Records, doesn't herald the end. That probably isn't the case, because, just like on their previous albums, the lyrics are based on looking for answers to social questions, but there is still a strong cultural/historical sauce draped over it. I read that this album, which came about very naturally, turned out to be a breath of fresh air. It has not always been easy for the band to record an album, but now everything went quite smoothly. There was even room to work on the structures and riffs during the recording process. You just have to dare and do it. I find that special to read.
The successor to the now five-year-old Exile Amongst The Ruins is rock solid or should I write: like a stately old ruin in the Irish landscape? The four-piece band has once again managed to deliver a strong album. The typical characteristics are fully present and I am not just talking about A.A. Nemtheanga's singing or the dragging, swampy drum parts of Mr. Simon O' Laoghaire, but also about the meandering melancholic riffs with epic, heroic characteristics of Ciáran MacUiliam and the wonderful Rickenbacker bass foundations of Pól MacAmlaigh. It seems as if this quartet has never been away
It is true that they can of course rely on a rich arsenal of strong songs and have demonstrated this again and again at many live events in recent years. I still remember a performance at the Samhain festival in Hasselt in 2022, very strong!
How does it end? You can also ask the question differently. How does it start? In any case,
How It Ends
simply starts with the title song. A song that opens with singing guitars that present a sad melody in a very clear way. However, you do'nt have to wait too long for the rumbling bass and typical drum sound of these Irishmen. When Mr. Nemtheanga vibrates his vocal chords, you know you're in the right place for more than an hour of paganesque black metal of the highest order and even higher. This first song immediately sets the tone for a socially critical reflection.
Plows To Rust, Swords To Dust also contains that typical cadence, a song that I think could also work well in live performances. Here again we find that interaction between the bass, drum and meandering, slightly melancholic guitar parts. You can hear that the natural sound of each instrument has been well captured by Chris Fielding of Hellfire Studios. There is even room for an instrumental, Traidisúnta, which sounds as clear as it is heroic.
The strongest song on this album, a song that shows the real Primordial, is surely Pilgrimage To The World's End. Wonderful swampy cadence, finesse on the hi-hat, finesse in the singing but above all what a main theme! Fortunately, it has been worked out down to the last detail. Call To Cernunnos is also a gem! Death Holy Death is a quiet, oppressive, slightly pounding classic in the making. Careful variations are introduced through the changing drumming
How does it end? Not for me at least. I think Primordial can continue to build their career a little further, but this tenth album, How It Ends, should absolutely not be the end. Let it just be an announcement for ten more new records.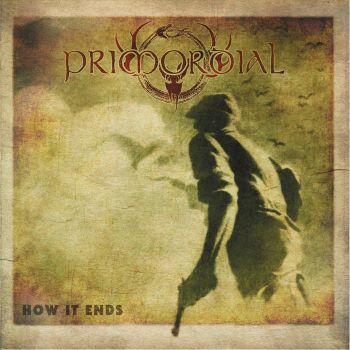 Score:
90/100
Label:
Metalblade Records, 2023
Tracklisting:
How It Ends
Ploughs To Rust, Swords To Dust
We Shall Not Serve
Traidisúnta
Pilgrimage To The World's End
Nothing New Under The Sun
Call To Cernunnos
All Against All
Death Holy Death
Victory Has 1000 Fathers, Defeat Is An Orphan
Line-up:
Pól MacAmlaigh – Basguitar
Ciáran MacUiliam – Guitar
A.A. Nemtheanga – Vocals
Simon O' Laoghaire – Drums
Links: