Klak! That's the sound when the bottom row of my teeth meet back with the top ones after just six and a half minutes, closing the gaping hole in my face. What in Satan's name has happened here? Well, the first song of Kaunis Kuolematon's new record has just finished and what an insane opening this is of their new album Mielenvalta. Finnish melodic death doom at its best, that will surely make your jaw drop!
First of all, apologies for the unorthodox opening paragraph, but this was a total surprise. Let's start at the beginning. Kaunis Kuolematon is a relatively unknown Finnish death doom band, which has been active for over a decade and is releasing its fourth full length album with Mielenvalta. So the band has not really enjoyed the spotlights that much yet despite the fact that this is a textbook example of Finnish high quality heavy metal. Perhaps the large influx of Finnish bands is to be blamed for this, or the Finnish language used by Kaunis Kuolematon might prove a barrier to a more international adaptation. To me, honestly, that last argument is the biggest nonsense on earth, since Finnish is the most powerful transmitter of melancholic emotion and companion to heavy guitar violence.
The ultimate proof of the above can be found on Mielenvalta. Kaunis Kuolematon employs two singers. Vocalist Olli Saakeli Suvanto is responsible for the heavy grunts and icy screams that are alternated with the clear angelic vocals of Mikko Heikkilä. The latter puts a lot of emotion into his singing and knows how to touch the soul. Even though Finnish is incomprehensible to my ears, this simply sounds beautiful. The interaction between the two gentlemen approaches perfection and creates a beautiful balance between darkness and light.
And now, the music! On 
Mielenvalta
we find nine new songs, all of which but one having a duration of over five minutes. On average the playing time is well over six minutes. Almost impossible to cover all of this in detail. Something that our colleague, Cor, also noted about the fantastic predecessor
Syttyköön Toinen Aurinko. Kaunis Kuolematon
takes plenty of time for the compositions to unfold and knows how to bring great diversity between the songs, but also within the individual pieces of music, alternating between heavy melodic death passages, lingering death doom guitar lines and atmospheric beacons of serenity. This is covered by a nice blanket of melancholic orchestration, which never loses sight of the Finnish sadness. It might, however, above all, be the oppressive intensity that makes this
Mielenvalta
so brilliant. The album feels like an exciting thriller, where you are constantly on the lookout for what the next twist will be.
Highlights are found throughout the entire album. However, we will take a look at the Finnish rice patties here. For example, the build-up in opener Surussa uinuva is simply insane, especially as it is followed by a furious blackened passage. Just try to keep your jaws together here! Title track Mielenvalta becomes as heavy as a ton of bricks after a long introduction, but contains beautiful hypnotic female vocals in the middle section. Maan varjoisan puolen completely grabs you by the throat with its oppressive atmosphere but the end of the song gives the neck muscles the opportunity to get involved. Aallot in turn delivers a perfect summary of what Kaunis Kuolematon stands for and brings together all elements of the band in perfect execution.
The entire album is filled with memorable moments and makes for a very intense and compelling experience. The first listening session was already good, but with multiple spins it becomes increasingly clear how well this album is put together. Everything is in its right place and is almost perfectly executed down to the last detail. This definitely goes on my end-of-the-year-list. It would also be entirely justified if Kaunis Kuolematon received more international appreciation in a broader sense, as this Mielenvalta is once again an absolute hit.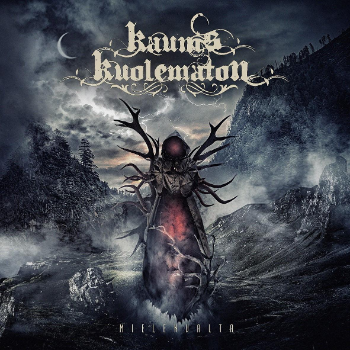 Score:
90/100
Label:
Noble Demon, 2023
Tracklisting:
Surussa uinuva
Elaevaeltae haudattu
Peilikuva
Mielenvalta
Nyt olet poissa
Maan varjoisan puolen
Aallot
Pahatar
Hukkunut sydaen
Line-up:
Olli Suvanto – Vocals
Mikko Heikkilä – Guitar, clean vocals
Ville Mussalo – Guitar
Jarno Uski – Bass guitar
Miika Hostikka – Drums
Links: