Everything was better in the past. But it wasn't like it used to be, right? I often hate those kinds of comments, but sometimes such statements actually make sense. Take Dying Fetus for example: founder John Gallagher had to look for fresh blood nine years after the band's founding (1991) and the departure of Jason Netherton – who started Misery Index. He found that in Sean Beasley, who is also part of the household contents to this day. After John gave up the sticks and picked up a stringed instrument, that position also became a changing position that has only become permanent since 2008. Since then, the trio has formed a stable base for an equally stable piece of brutal death metal. It is therefore no surprise that the brand new Make Them Beg For Death builds on where Wrong One To Fuck With  (2017) ended in every respect. The table is set: join us!
The Americans start their blastfest with Enlighten Through Agony and close with a blastfest, swampy guitar riffs and breakdowns through Subterfuge. So what's in between? Extremely much musical violence as we are used to, but not just of a lick-it-yourself level. No: this is traditionally Champions League slander! We had already played the tasty singles Compulsion For Cruelty (that break halfway through, now that's what I'm talking about!) and Unbridled Fury, but the wild, up and down undulating guitar lines during the oppressive Feast Of Ashes and When The Trend Ends are just as delightful. . Played technically, but never went too far in that approach. The vocal interaction between Gallagher and Beasley is again excellent and the production is also top notch. What a creamy larynx they both have that never bores you.
The thrashing guitar riffs in the short but powerful
Throw Them In The Van
is a cool excursion, but it is of course especially enjoyable when
Dying Fetus
integrates his penchant for those characteristic, slamming breaks into the overwhelming whole. During
Undulating Carnage
,
Raised In Victory Razed In Defeat
and the ultra-filthy
Hero's Grave
, the child's hand is quickly filled. Before you know it, the record is over and you're more than happy to start it again with the same speed.
Fans are now used to the fact that the guitarists conjure up one cool riff after another with playful ease, but let's end with a big compliment to Trey Williams for his mastery of the instrument. Extremely tight, but also with a wonderful groove in his drumming with which he leaves a mark on the sound of the band in 2023. Kudos! Basically we get to hear yet another Dying Fetus album, but the variety in the songs themselves and the balanced track list are really delicious. That fact makes Make Them Beg For Death straight annual list material and one of the better albums in the discography. The band thus confirms its position as apex predator in the world of brutal death metals. Who said that everything was better in the past?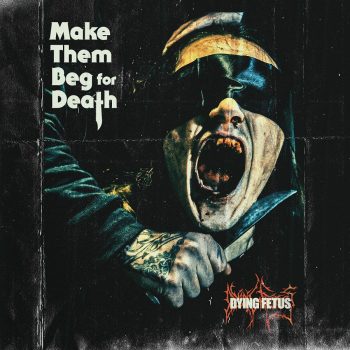 Score:
88/100
Label:
Relapse Records, 2023
Tracklisting:
Enlighten Through Agony
Compulsion For Cruelty
Feast Of Ashes
Throw Them In The Van
Unbridled Fury
When The Trend Ends
Undulating Carnage
Raised In Victory Razed In Defeat
Hero's Grave
Subterfuge
Line-up:
John Gallagher – Gitaar, zang
Sean Beasley – Basgitaar, zang
Trey Williams – Drums
Links: