Every good hustler has a little something 'on the side'. For Devin Townsend, his 'on the side' is called Devolution: a series of releases, born from difficult times, that somehow do not completely fall into his normal line of work (and therefore receive less promotion). Part #1 was an unpolished representation of the 'acoustically inclined' set that he performed live in Leeds in 2019. It was a more than nice, especially for the fans who were present at the similar performance in the Sint Bavokerk in Haarlem or had to miss that event. Part #2 brought us the corona livestream (including video) in which he presented his heavier songs. Also special, especially to hear how the character (listen to those lyrics) of HevyDevy himself changes when he plays his grimmer songs. So now we have part #3 and it is once again a bit out there. It is a live-performance from the American Empath tour from early 2020. You guessed it: a tour that was cut short due to an emerging virus.
Yes, of course we already have a nice Empath concert in the non-virtual cabinet. After all, in 2020 Townsend already released Order Of Magnitude – Empath Live Volume 1. That was and is a fabulous representation of a performance of the European Empath story, a story that was presented under the motto big, bigger, grandssss. But that is a completely different one from the one that we now have in front of us. To begin with, the Canadian grandmaster came up with a smaller band, whether or not forced by finances. The very strong choir stayed at home (Ché Aimee Dorval is present) and Devin also had to do with one guitar player less.
Of course, that also gives a little more freedom and that was precisely the intention, or perhaps necessity was simply turned into a virtue. The band performed a "free form" version of the songs, so every evening would be a unique experience. And Townsend, as is often the case, went far. So much so that Empath's unrehearsed Sprite is played under the title Fuck Around Section with the motto 'let's see how far we can get'. As expected, this undertaking comes to an inexorable halt somewhere halfway, perhaps even because of the rather unsubtle way in which Townsend himself brings his vocal lines. This does not mean that there is nothing to gain from this #3. The wonderfully jarring chaos that is Evermore and a blazing Supercrush! yet again sound majestic, while Why's emotions are rightly given the right place. Of course there is (as always) the humor of the genius. Cue the announcement of March Of The Poozers: 'This song is about a farting ballsack, yeah I know … and I'm almost fifty.' And luckily those present can also sing along to "beep boep beep" in Why.
Due to the different setting, some different accents suddenly become apparent. Examples? Of course, here they are: that clear, almost funky guitar in the aforementioned
Evermore
, the release of the stomping guitars in
March Of The Poozers
, the nice ripping rock 'n' roll solo at the end of
Hyperdrive
and the rendition by Ché Aimee Duval of the Anneke parts in
Ih-Ah!
which straightens out the
Fuck Around Section
. After a more jazzy section the recording ends with
Love
and
Kingdom.
It's just as we like it: nice and heavy and pounding towards a climax and therefore without the disco music that somewhat disfigures
Order Of Magnitude
(sorry, I had to say it!).
Part #III of the Devolution series, unlike the tightly orchestrated feast that visitors to the European Empath concerts experienced, features a very loose set from Townsend, including a medley and audience requests. Because of this design of the performance, #3 is probably especially interesting for the diehard Devin Townsend fan. For someone who really wants to get acquainted with the brilliant live madness of the man and his band, there are other, better releases available. But hey, that makes #III fit perfectly into the design of the Devolution series. And we have another hour of intriguing live work from my favorite Canadian (of course, I don't know that many)! I wonder what he will come up with next time.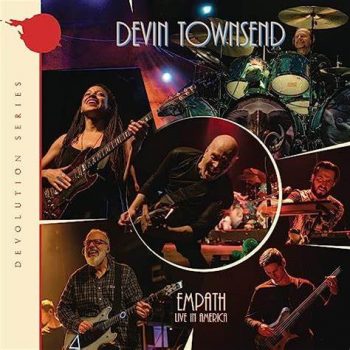 Label:
InsideOut Music, 2023
Tracklisting:
Intro Montreal
Evermore Montreal
Supercrush!
March Of The Poozers
Why
Hyperdrive!
Fuck Around Section
Ih-Ah!
GIGPIG Jam
Forgive Me
Love
Kingdom
Line-up:
Devin Townsend – Vocals, guitar
Mike Keneally – Guitar
Nathan Navarro – Bass
Diego Tejeida – Keyboards
Morgan Ågren – Drums
Ché Aimee Dorval – Guitar, vocals
Links: