Twice as brutal, twice as deadly, twice as fun. That is our section Double As Heavy. A new, highly anticipated, heavy album that simply demands to be viewed from more than one side. In addition, the editors would fight each other out to determine who would ultimately get the golden ticket. This time we cover Cursed Mortality by Carnation. MrJingles (favorite genre: all manifestations of death) and MaartenO (favorite genre: metalcore/deathcore) are running away with this section this time.
The Belgian disciples of the school of old dead metals return again! Carnation has had the wind in its sails since its founding (with the fresh thought of Ciarán which had the wind in its sail). To stay in business: in 2019 the band was already preparing for a trip on the 70,000 Tons of Metal cruise, with only one album under their belt. That probably says enough about the quality we are dealing with here. The company from Heist-op-den-Berg has only been active since 2013 and is setting itself apart from the crowd more strongly with each album released. Cursed Mortality is album number three and is released again via Season Of Mist.
Why should you listen to this new Carnation record?
MrJingles: Lovers of old school death metal will have had the gentlemen of Carnation on their radar for a long time and will therefore eagerly await this new work. If not, you have a new obsession for the coming weeks. Carnation can call itself one of the modern forebearers of old-school death metal. This Belgian formation brings much more than simply a brutal tribute to the legendary bands of yesteryear. This Cursed Mortality may sound tighter, but also better thought out than Carnation's previous two albums. Fans of Bloodbath, Edge Of Sanity, but also Blood Incantation would do well to curse their mortality!
MaartenO: Because in the Benelux we can be proud of bands that can produce their metal at this level. It seems strange to me that as a fan of melodic death metal you cannot appreciate a band like Carnation. What emerges even more strongly on Cursed Morality than on its predecessors is the melodic aspect. The tremolo riffs sound wonderfully menacing and excellent, with which the Belgian band once again gives a big nod to Scandinavian pioneers. Yet the fivesome manages to add their own sauce to the result this round (read: not making music a dime a dozen), so it is absolutely not a land grab.
The well-received Where Death Lies was released three years ago. Can we see this new work as an extension or is the band heading in a new direction?
MrJingles: Cursed Mortality is clearly a natural development compared to Where Death Lies and can certainly be placed in line with it. However, the new work plays with some nuance differences and Carnation dares to experiment a bit more, without immediately diving into a completely different direction. The spinning chainsaw guitars still form the pounding heart of the album. These can be found, for example, on opener Herald Of Demise and the filthy Cycle Of Suffering, but they are especially attuned to the grooving Metropolis. Changes in emphasis can be found, for example, in the melodic guitar lines that come to the fore in several places, but above all in the clear vocals of singer Simon Duson on Replicant and Cursed Mortality. No idea why this hasn't been incorporated into the music before, as this is a very surprising and pleasant addition!
MaartenO: This record is more of an extension than Carnation taking a completely new path. Yet the guitar riffs during Herald Of Demise, the very recognizable Metropolis and the drawn-out Submerged In Deafening Silence sound significantly more open and accessible than during the average song on Where Death Lies. This not only creates more space in the guitar parts, the vocals – and to a lesser extent the drums – also benefit from this and can therefore experiment with other lines. In Replicant, clean vocals are really used for the first time, but unfortunately the focus is very much on that, making the song itself not very comprehensive. Moreover, the execution is not very convincing. Then the beautifully constructed and beautifully balanced title track that closes this album is a lot more impressive. The beautiful vocals are used effectively there. Drummer Vincent Verstrepen's battle plan has not been changed much, but the emphasis is mainly on rock-solid pounding. All in all, the average song of this Cursed Morality live will not stand out significantly from the previous work.
Old school death metal is a subgenre that fits quite comfortably into its own box. Can Carnation manage to give this its own interpretation?
MrJingles: When you say old school death metal, you automatically think of the great masters from Scandinavia. It can only be said that Carnation has certainly listened to this carefully. But hey, otherwise it's not old school death metal of course. This means that Carnation largely colors within the lines. However, these five Belgians deliver it in such high quality that this question does not even matter. However, with Cursed Mortality I dare say that Carnation has managed to secure its own place even more within this specific niche.
MaartenO: I think that the band has been able to create a convincing and unique sound since the start. Just good musicians who know what good metal should sound like. The guitar work is again decisive on this album and an excellent singer and drummer top it off nicely. The melodic approach, in combination with the thick-wood-cutting-planks mentality, gives it that little bit of uniqueness that makes Carnation stand out from the crowd.
A slightly lighter dilemma, this time about the singer. He shows a new painted face on every album. What do we think of the current variant?
MrJingles: It may be going a bit far, but singer Simon Duson is slowly becoming the Papa Emeritus of old school death metal! Of course, appearance does not matter, but the visual aspect is also an increasingly important part in metal. Bands that respond well to this also seem to have an advantage in some cases. Although of course Carnation doesn't need that at all.
MaartenO: Not only a new make-up, but also a new logo and a different type of cover from a different artist. In my opinion, these types of adjustments are indicative of the ambition and courage to work on style innovation. After all, we already have enough bands that release the same album ten times in this genre. Some innovation is good from time to time and I can imagine that this also offers new challenges for experienced musicians. Keep it up guys!
What's the best song on the album?
MrJingles: What really speaks for this album is that there are in fact no weak brothers on it. The eight songs last more than half an hour and that is the perfect playing time for the style that Carnation uses. Standouts for me are the brutally grooving Metropolis and Cycle Of Suffering with its dragging blubber riffs. Delicious! But the absolute highlight follows in the form of the closing title track. Here Carnation shows its full future potential. Here we find progressive post influences that merge perfectly with the more familiar filth, as the song slowly increases in intensity. The party is complete when drummer Vincent Verstrepen manages to produce an extra layer of calluses on his palms towards the end with a set of delicious blast beats.
MaartenO: Dutroux! A song with still a charged theme – the title speaks for itself – that in all its lugubriousness has been perfectly translated, both musically and lyrically. For me, these types of songs are the reason why death metal can sound so powerful as the theme fits seamlessly with the brutal music. The continuously threatening atmosphere reinforces the good text and takes you into a world that we would rather not imagine, but which is actually reality. Very nicely executed!
Final conclusion: will Carnation end up in the annual lists with this Cursed Mortality?
MrJingles: Carnation releases another tasty album full of chainsaws with Cursed Mortality. However, if we check the streaming services, the band does not seem to have fully connected with the general public yet. This new work here is simply not exceptional enough to achieve that. However, fans of the genre will easily place this album in the top tier.
MaartenO: The annual lists can be long and different per person. Cursed Mortality does not end up in the top regions of my annual list, but it is a refreshing death metal album. Musically there is little to complain about, but the biggest stylistic innovation is still too dubious to really impress. The title track shows that this is not necessary at all, so I am very curious what Carnation's next move will be.
Score MrJingles: 84
Score MaartenO: 80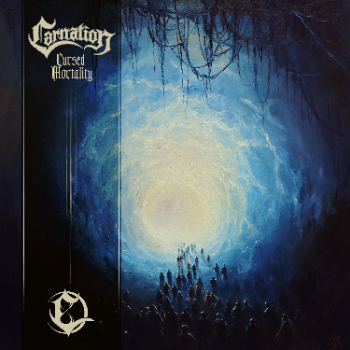 Score:
82/100
Label:
Season Of Mist, 2023
Tracklisting:
Herald Of Demise
Maruta
Metropolis
Replicant
Dutroux
Submerged In Deafening Silence
Cycle Of Suffering
Cursed Mortality
Line-up:
Simon Duson – Vocals
Jonathan Verstrepen – Guitar
Bert Vervoort – Guitar
Yarne Heylen – Bassguitar
Vincent Verstrepen – Drums
Links: