The Magus, who doesn't know this guy? Who is unaware of his influence on the Greek black metal underground? Think of his years contributing in bands like Necromantia, Rotting Christ, and more recently, Yoth Iria. I had the opportunity to interview The Magus some time ago in relation to a release by the latter band. In the meantime, The Magus has withdrawn from Yoth Iria, leaving Jim Mutilator to continue the work. However, he hasn't been idle. He gathered two old comrades, El and Maelstrom, band members he used to play with in Principality Of Hell for instance. Do you remember that band? A band with a short life but in that limited time, it released some decent records, including the Diabolicum Est-split with Den Saakaldte.
Bυσσοδομώντας or Vissodomontas is the debut album by The Magus, and no expense has been spared. Just take a look at the special edition released by The Circle Music. Musically, everything has been skillfully handled by none other than George Emmanuel in his Pentagram Studio. In addition, a bunch of guest musicians have been brought in. Hel Pyre (W.E.B.), Iraklis Gialatzides (Swan Christy), Manos Six (Manos Six and the Muddy Devil), and Christos Antoniou (Septicflesh) were all willing to contribute to this occult black metal masterpiece. The artwork is once again handled by Mr. Signh, who also did the artwork for Yoth Iria. I'm neither excited nor upset about it.
The beginning of this album can be described as quite occult and ritualistic. Deep, dark sounds straight from Hell are mixed with impressive spoken passages that invite you to be a part of his Church. After all, it is Lucifer himself who is addressing you.
The Fall Of Man
opens the gates of Hell in a very impressive and razor-sharp manner. Tight blasts and typical Greek guitar and drum themes are part of your experience. They are all alternated smoothly. A choral part (arranged by Mr. Antoniou) fits perfectly into this track. The background of heavy metal is found in
Lux Tenebrarum
. Exceptionally nimble guitar solos are woven into a seething, stomping black metal track.
The highly ritualistic title track sounds somewhat strange with those atypical breaks and organ sounds, while Ama Lilith makes you furrow your eyebrows with its rhythmic introduction. It seems like this track takes a few too many turns. If you want to make it entirely experimental, complete with jazz influences, then Give The Devil His Due: The Story is a somewhat peculiar ending to an otherwise typical Greek occult black metal album.
You can call this Bυσσοδομώντας or Vissodomontas a very strong release. The Magus writes and stays. With this album, he allows us to delve into his dark underground thought processes, something he already reflected upon in the aforementioned interview.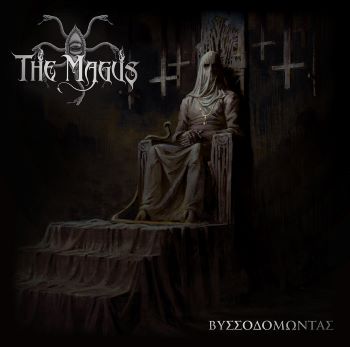 Score:
80/100
Label:
The Circle Music, 2023
Tracklisting:
This Is My Church
The Fall Of Man
Lux Tenebrarum
ΒΥΣΣΟΔΟΜΩΝΤΑΣ
Idolatrous Discord
Ama Lilith
Negative Renaissance
The Peacock King
Give The Devil His Due: The Story
Line-up:
The Magus – Vocals, bass
El – Guitar
Maelstrom – Drums
Links: