Among the established names in the symphonic metal and progressive doom scenes, a band proudly defying simple categorization has emerged. Oryad has achieved a significant milestone in his musical journey with the debut album Sacred & Profane. Their rise was heralded two years ago with the release of their debut EP Hymns of Exile and Decay, offering a glimpse into their unique musical style. Armed with an eclectic array of influences, including Blackbriar, Black Sabbath, and Eivør, Sacred & Profane promises a musical experience that transcends traditional genres. It takes fans on an epic journey where symphonic, folk, and doom metal harmoniously converge, with even jazz influences playing a role.
The album kicks off with The Path: Pt. I, which captivates the listener in an engaging and almost enchanting manner, introducing them to the symphonic metal genre. The melancholic piano effortlessly blends with Moira's captivating vocals, creating a mysterious ambiance. The music evokes a sense of ritual, and as the drums join in midway through the track, this atmosphere intensifies. It becomes clear that Moira's classically trained soprano voice can effortlessly rival the established names of the genre. It is an intriguing opening that immediately sets the tone for the rest of the album.
Blood opens with a touch of classical music: a piano intro that features the first part of Beethoven's Piano Sonata Opus 10. It sets a scene of tension akin to the anticipation for an impending ominous storm. Soon after the blistering guitars and dramatic orchestral elements come into play, unfolding the track into a powerful metal piece accompanied by vocals reminiscent of opera. Then the storm briefly subsides, giving way to a moment of quiet before ramping up again during the guitar solo. Blood reaches its climax when Moira sings the words: "I need you, stay in my blood / I am you, we are one." This deep yearning and sense of connection are amplified by some powerful double bass drumming lending the track a raw and intense expression. As the track draws to a close, the storm recedes, leading us back to Beethoven's piano piece that initially introduced the whirlwind of Blood.
The diversity of
Sacred & Profane
is highlighted as well in
Alchemy
, fusing metal and jazz. Moira's vocal talent takes a different direction here, showcasing her ability to explore various vocal styles. The classical, opera-like elements found elsewhere on the album make way for a bluesy undertone. Moira's jazzy singing in this track creates a unique contrast with the background instruments which unmistakably reside in the realm of metal.
Alchemy
perfectly illustrates how
Oryad
succeeds in blending different musical worlds into an entirely new style.
As the final notes of The Path: Pt. II eventually fade away, I stay behind with a sense of wonder – a wonder born from the discovery of a sound that is both familiar and refreshingly new. Sacred & Profane is an album that will capture the hearts of not only metal enthusiasts but also those seeking musical talent that extends beyond the boundaries of a single genre. With a band capable of seamlessly blending diverse genres into a fantastic whole, I am very curious about what Oryad holds in store for us in the future.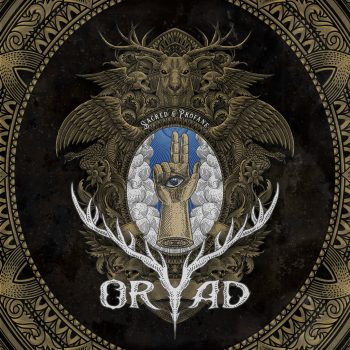 Score:
80/100
Label:
Eigen beheer, 2023
Tracklisting:
The Path, Pt. I
Scorched Earth
Blood
Lilith
Eve
Alchemy
Wayfaring Stranger
Through the Veil
Slice of Time
The Path, Pt. II
Line-up:
Matt Gotlin-Sheehan – Drums
Moira Murphy – Vocals, keyboard
Links: