Wolves In The Throne Room probably don't need an introduction for the most of us. The Weaver brothers, Americans, have always done their own thing and have stuffed their black metal with their own characteristics which could mainly be traced back to cultural-historical backgrounds, occult and ritualistically infused with local natural elements (and that is me summarizing somewhat bluntly). This Crypt Of Ancestral Knowledge is an EP and the successor to the seventh full length which was released by Relapse Records, called Primordial Arcana. I am, and I don't mind admitting this, mainly a fan of the very early work of the Weaver brothers. Records from 2006 or 2007 such as Diadem Of 12 Stars or Two Hunters.
It's not that the later work loses quality, but in more recent music there is often more experimentation with ambient-like escapades and the like. Something that also seems to be reflected on this EP, especially in the last two songs. Take Initiates Of White Hart. It's  a kind of atmospheric, instrumental interpretation of a song from the previous album, Spirit Of Lightning. And the closing Crown Of Stone is a rather ritualistic-feeling dark ambient event.
But let's focus on the two full songs. We start with
Beholden To Clan
in typical
Wolves In The Throne Room-
tradition. A blast party, a rolling double bass event and above and below sharp screams, occult synth lines and very narrative guitars. Guitars that meander along, undulating with the natural elements that you can feel trickling through. With every release from this American black metal powerhouse, you imagine yourself in the misty mountainous region where the gentlemen were born. The synth lines drape so much moisture, so much wetness that the surface you stand on will immediately be drenched with the
Wolves In The Throne Room
spirit.
And just like on previous albums, the songs flow smoothly into each other. Not much later Twin Mouthed Spring leaves a strong impression on Mother Earth. Rather whispering vocals alternate with acoustic reflections before those cutting guitar lines are blown towards you over a blast by a strong wind.
You can certainly call this Crypt Of Ancestral Knowledge by Wolves In The Throne Room an impressive release. Despite the fact that it turns out to be just an EP, the whole thing sounds incredibly robust, aggressive, but at the same time also narrative and at times soft and unctuous.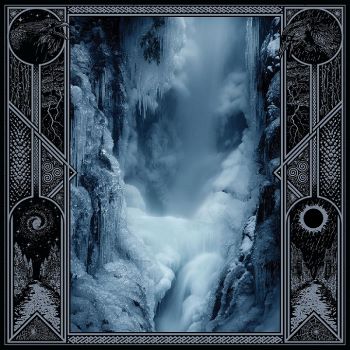 Label:
Relapse Records, 2023
Tracklisting:
Beholden To Clan
Twin Mouthed Spring
Initiates Of The White Hart
Crown Of Stone
Line-up:
Kody Keyworth – Guitar
Nathan Weaver – Vocals, guitar
Cedar Serpent – Drums
Aaron Weaver – Gituar, vocals
Links: