He almost escaped us. Almost. Another three years have passed and so it is time for a new Kataklysm. Let me not hide it: Unconquered from 2020 was not the immediate reason to dive like a hungry vulture into this new album by the Canadians. After all, there are plenty of nice albums coming out, but the many good reactions I heard about Goliath – album number fifteen – still made me curious. You will understand that yet another straightforward work from the band had not received a review here, at least not from me. With James Payne, the formation has a new drummer in its ranks and the match quickly turns out to be a more than good one.
Dark Wings Of Deception is a great entry. The rolling bass drums announce a hurricane of fat grooves, rumbling bass parts and ominous riffs. With even thicker headbang rhythms, the groove metal in the title track easily exceeds that level. After the first listen, the blast beat rhythms during the start of Die As A King are proof that Kataklysm on Goliath is more versatile but above all more convincing than on that previous record. The gentlemen reinforce this approach with sing-along choruses, so that the starting block has already been set in concrete.
It appears to be the progression towards an album full of extremely brutal metal that also has much more variety. For example, Combustion and The Redeemer (absolute favorite!) are heavy and at the same time provided with catchy hooks. From The Land Of The Living To The Land Of The Dead and Gravestones & Coffins are again infused with nice unruly rhythms to which Maurizio Iacono's booming vocals fit in seamlessly. At appropriate moments, string picker Jean-Francios Dagenais conjures up some melodic tinkering from his guitar and the circle is closed. And speaking of closing the circle: the drawn-out and beautifully constructive The Sacrifice For Truth is a worthy closing track that is reminiscent of Raised Fist in its ambiance and vocal lines. Very cool!
You already read it: a lot more can be written enthusiastically about this
Goliath
than about its predecessor. Very clever that after so many albums
Kataklysm
just comes up with this wrecking ball again. There are no weak songs to be found, but with
Dark Wings Of Deception
and the pumping
Die As A King
and
The Redeemer
, among others, we do hear above-average cool songs that let the Canadians shine again, as a band with old hands in the business should be able to do.
Goliath
is also very easy to listen to as a coherent whole, which means that you still won't get bored after several rounds of spinning. Let that be a hallmark of a great album! Be warned: this will put a lot of wear and tear on your cervical vertebrae.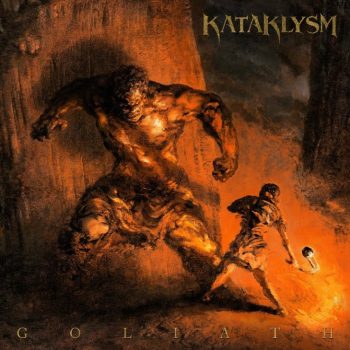 Score:
84/100
Label:
Nuclear Blast Records, 2023
Tracklisting:
Dark Wings Of Deception
Goliath
Die As A King
Bringer Of Vengeance
Combustion
From The Land Of The Living To The Land Of The Dead
The Redeemer
Heroes To Villains
Gravestones & Coffins
The Sacrifice For Truth
Line-up:
Maurizio Iacono – Vocalen
Jean-Francios Dagenais – Gitaar
Stéphane Barbe – Basgitaar
James Payne – Drums
Links: