Wow. We're already two years further. In early January 2021, there suddenly was Crypt Of Ice from the death metal band Frozen Soul. Of course not suddenly, but that's how it felt at the time. The debut of the Texans hit like a bomb. Convincing, crushing, and very professional: as if the group had been at it for years. As the band name suggests, ice is an important and defining theme for the quintet, and to continue the success of that chosen path, Frozen Soul decides to once again work with producer Daniel Smuck, who once played in the band himself. Matt Heafy from Trivium also had a big hand in this second album as co-producer and guest musician. With that, we are almost guaranteed to get the same delicious pot of (c)old school death metal. However, the path toward recording Glacial Domination was not without its bumps. Frontman Chad Green lost his younger brother Cory, and that tragic event had a significant impact on the band and the result of this album. It's definitely audible that all the accompanying emotions have found their way out through the music, and as a result, the outcome is once again of exceptionally high quality.
The high expectations for this second album are immediately fulfilled with Invisible Tormentor and Arsenal Of War. Over the past few years, I have rarely heard two such strong songs as an opening offensive on an album back to back. Led by the delightful roaring vocals of Green – sometimes ultra-dirty and gritty, sometimes icy-cold and eerily possessed – Frozen Soul marches like a set of elephant legs over an anthill. Of course, we hear effective, colossal mid-tempo death metal riffs that, just like on Crypt Of Ice, excel in simplicity. In addition, the choruses are provided with captivating and powerful lyrics, which make you as a listener able to sing along after a few listens while feeling like you can take on the world. As far as I'm concerned, two upcoming classics in the genre because everything about the songs is simply right, and the understated solo work offers that little bit extra where it might still be lacking.
Where weaker albums would immediately fall back after such a high starting level, Frozen Soul easily continues with the short and powerful Death And Glory and with menacing death metal in Morbid Effigy, where they get support from John Gallagher (Dying Fetus), who adds a tasty grunt. It's a typical song where you can clearly hear the (metallic) hardcore roots of the band due to the use of lumbering, downtempo guitar riffs in combination with grooving mosh parts that only incite movement. Great video too!
During
Glacial Domination
,
Frozen Soul
, and especially
Assimilator
, we hear that the band gives its experimental urge a bit more free rein. Green stretches the contrasts in his vocals while the string pickers work more harmoniously and melodically. Partly due to these adjustments, space is created that is cleverly filled with fine guitar solos that turn out to be memorable and frequently reminiscent of the approach of founders such as
Entombed
,
Bolt Thrower
, and
Carcass
. The latter song works particularly well due to the recognizable choruses but a little less due to monotony. That small flaw disappears as quickly as snow in the sun (uh-huh) with the mid-tempo crushers
Best Served Cold
and
Abominable
with which the album draws to a close. Songs that rumble like an avalanche from a black slope with the intention of taking the last survivors of the first avalanche along in its all-destructive effect.
Atomic Winter
is a pleasant coup de grace. And then… Quickly put this dike of an album on again!
Thanks to
Glacial Domination
, we once again have
Frozen Soul
standing out. The quintet doesn't offer anything new, but flawlessly balances the scales with familiar ingredients, melting the hearts of many death metal fans once again. Anyone who thought
Crypt Of Ice
was a stroke of luck will be disappointed. On this second album, the Americans deliver at least as effectively, possibly even stronger. And have we already mentioned that super cool artwork? If this is the beginning of the snowball effect that the band is causing, I'm very curious about what the gentlemen and lady still have in store for the future. Album of the year in its genre?
Glacial Domination
might be a good participator! Bang your head off!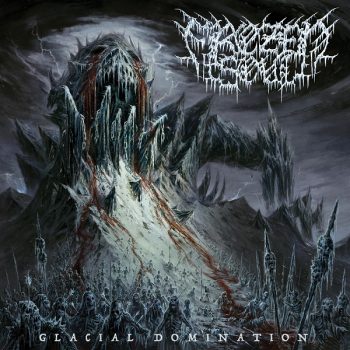 Score:
88/100
Label:
Century Media Records, 2023
Tracklisting:
Invisible Tormentor
Arsenal Of War
Death And Glory
Morbid Effigy
Annihilation
Glacial Domination
Frozen Soul
Assimilator
Best Served Cold
Abominable
Atomic Winter
Line-up:
Chad Green – Zang
Michael Munday – Gitaar
Chris Bonner – Gitaar
Samantha Mobley – Basgitaar
Matt Dennar – Drums
Links: